Conversations with Auntie Carol
Seven Oral History Interviews with
Caroline Kuliaikanu`ukapu Wilcox DeLima Farias
Researched, Conducted, Compiled & Narrated by
Jeanne Burrows-Johnson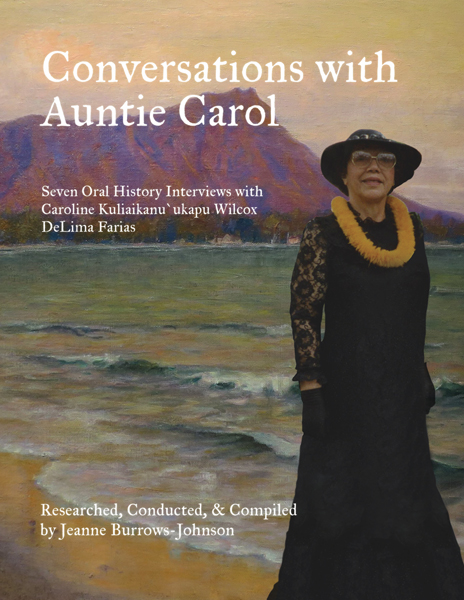 It seems as though I have been

ab

sent more than present on the Internet this year…
…what have I been doing?
~  I've redesigned my websites: JeanneBurrows-Johnson.com [with more Island recipes plus tales about historic Tucson] and ImaginingsWordpower.com [a branding and development website] which will soon have new material.
~  Yen for Murder [the fourth book in the award-winning Natalie Seachrist Hawaiian Mysteries] has been edited and awaits a new publishing home…Perhaps you know a publisher who likes hardcover as well as softcover books—the only type of book libraries concerned with their collection's longevity will buy. Maybe you even know of a publisher with connections to overseas markets and television and movie opportunities.
~  I created a professional Facebook page was created to provide updates and links to my websites and this blog.
~  I've just complete writing a detailed introduction with discoursive endnotes for Conversations with Auntie Carol, Seven Oral History Interviews with Caroline Kuliaikanu`ukapu Wilcox DeLima Farias .
This last project is especially dear to me. The seven interviews are observations on childhood, family, and events that reflect the inner spirit of Caroline Kuliaikanu`ukapu Wilcox DeLima Farias who lived from 1923 to 2001. Carol was a descendant of ali`i, Hawaiian nobility. Her personal story includes performing hula awana at the Moana Hotel on the beach at Waikīkī on December 6, 1941, the day before the Japanese attack on Pearl Harbor and other parts of O`ahu that brought the United States into the Second World War. 

As a reader or listener will observe, Carol was close to her family and proud of the prominent roles they played in the history of Hawai`i. She was the grandniece of Col. Robert W. K. Wilcox, a major politician and a revolutionary who strove to restore Queen Lili`uokalani to the throne of a sovereign Kingdom of Hawai`i. Carol was also the second cousin of Johanna N. Wilcox, the first woman registered to vote in the U.S. Territory of Hawai`i.

Carol was one of the first people to welcome me to Honolulu in January of 1973. While performing at a Daughters of the British Empire tea to celebrate the birthday of Scottish poet Robert Burns, Carol and others expressed interest in having their daughters study Scottish Highland Dancing with me. Soon I was privileged to teach Carol's younger daughter Lorna and her neighbor in the Farias home. In 1975, Carol and her family helped plan my wedding and I was especially honored when she performed hula at our reception. Within a couple of years, Lorna was participating in competition and performances, including Highland Games and the Hilo International Festival on the island of Hawai`i. Although Lorna stopped taking dance classes as a teenager, I periodically saw Carol at gatherings in both of our homes.

In 1981, I returned to college. After obtaining a Bachelor of Arts degree in history, I continued studies in Asian and American history and worked as a graduate teaching assistant in the World Civilization program of the University of Hawai`i. As I learned more about Hawaiian history, I was able to appreciate many aspects of Carol's stories. We remained in touch when I accompanied my husband to Newport, Rhode Island, where he was an instructor at the U.S. Naval Education and Training Center. At that time I began my career as a free-lance writer and marketing consultant.

When I returned to Hawai`i, Carol shared the many changes that had occurred in her life. Three of the sisters of Johanna Wilcox had moved into Carol's home in Kāne`ohe. This was a time of mixed joys and sorrows for the family. For although her Aunties rejoiced in being united in Carol's home, by 1990 the last of them had passed, as well as Carol's beloved husband Freddy. Although I had met a couple of the women, I had absorbed neither their familial dynamics, nor the details of their individual lives.