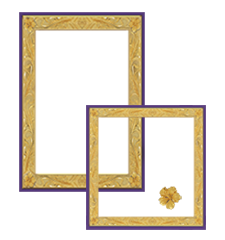 DESIGNING A MEMOR

A

BLE AUTHOR'S DISPLAY 
This year began with new technical and artistic challenges, ranging from the computer I mentioned in my last post to creating visual elements for events. My latest project is refining my displays for book fairs and other opportunities to visit with current and prospective readers. This has led to revisiting several artistic standards. One would think these issues had been solved at the onset of my event planning long ago…
WHERE TO BEGIN
 Images of the Natalie Seachrist Hawaiian Mysteries are my starting point for most visual projects these days. Even when I' m introducing other projects, the center of my public interaction is this series.
EVENT DISPLAY ISSUES
Most of the events in which I participate feature displays on at least one half of a rectangular luncheon size table, approximately six to eight feet in length and two feet in width. In the past, that has meant utilizing small posters, about 11 x 17 inches presented on tri-legged frames of wood, metal, and/or acrylic. These images have centered on a single book or project, which has meant an ever-growing number of items over the last few years. Even when I diligently refresh my tablescape during an event, by the end of a day there has been an accumulation of clutter.
With the current trio of titles within my mysteries, I decided that 2020 would be the year to introduce a fresh look. One that could be maintained easily throughout a day I have the opportunity to greet current and potential readers—or even organizations that might like me to present a motivational talk or seminar. With increasing emphasis on personal marketing, this seems especially prudent!
I began this undertaking by examining the books and other materials I want to present, as well as the decorative touches that visually present the Hawaiian Islands. The books themselves are offered in both hardcover and softcover editions. Accompanying signage is needed to highlight eBook and audible editions that are available at various online and brick-and-mortar locations.
FINDING DISPLAY MATERIALS
A visit to a local store fixture outlet fulfilled several of my desires.
~ Acrylic stands for over-sized postcards, bookmarks, and business cards
~ Clear plastic sales bags that display my book covers
~ Colorful bags for customers wishing to present gifts
~ A three-tier acrylic stand to hold three or more books per shelf
This last item is proving especially useful. While I am concerned about the stand's fragile material, I find it preferable to the heavy weight of metal and wood alternatives I have been using. Properly wrapped, the stand will be easily transported to distant locales, such as the Hawai'i Book and Music Festival. Best of all, regardless of the surface on which the stand sits, my award-winning book covers shines brightly upon it!
SIGNAGE
I found myself staring at signs in every direction of the showroom. From the front door to the walls and counters, display cases and bins, text and images alerted me to the joys of an array of "toys" for introducing my products…and myself. Hmm. In the past I've simply enlarged book covers, matted them on gold cardstock, and laminated them.
But this is 2020. Something sturdier and more elegant is desirable. With a trio of primary products, a triangle seemed most appropriate for the 18×24 poster I was planning. My next question was sequencing. Should I place the books in chronological order? Or, should I emphasize the last publication.  Because that book, Murders of Conveyance, recently won First Place of Fiction Adventure-Drama in the 2019 New Mexico-Arizona Book Awards, I opted for the latter option.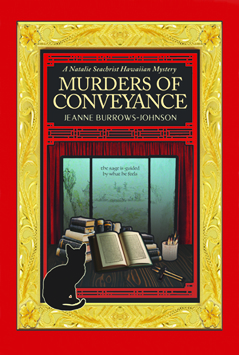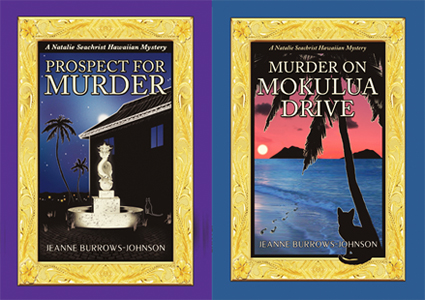 FINALIZING THE POSTERS
Now we turn to the details that took several days to finalize. I considered colors and textures for a background. Eventually, I realized that the jewel tones of my book jackets scream out for the classic jewelry store option of simple black. The issue of fonts also arose. In short order, my wonderful artist, Yasamine June, sent me the necessary information to present promo text in the same font as that on the book jackets.
Initially, I was delighted with my creation. The image of each book sat on a black background with harmonizing text in gold. But somehow the overall image was incomplete. Then, as I stared at each volume in the series, I experienced an ah-ha moment. What was missing was the lovely gold framing I had had Yasamine design for me. It is based on Hawaiian heirloom jewelry, and features a hibiscus flower in each corner!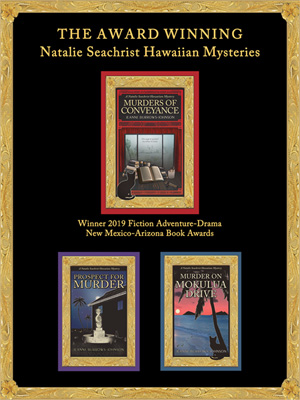 After a wonderful feeling of accomplishment, I remembered there might be events for which a larger poster [22×36 inches] might be appropriate. So, I increased the size of my images and text and added book reviews!
INTRODUCING MY NEW DISPLAY
On March 14-15, 2020, I had planned to unveil my new look at the Tucson Sisters in Crime Booth at the Tucson Festival of Books. I envisioned the larger poster mounted on a grid at the back of the tent, with the smaller one being positioned on the top tier of my acrylic stand, with the series' books framing it. I would complete the new tablescape with a few battery-operated lights, shell leis, and a gold palm tree! Unfortunately, due to the cancellation by leading authors facing travel challenges caused by the Coronavirus, the Festival was cancelled…
Fortunately, on Sunday, March 22, I'll be introducing myself at a Meet & Greet at the front of the Tucson East-side Barnes & Noble Store [5130 E. Broadway Boulevard] from Noon – 4:00 p.m., WHICH SHOULD BE RELATIVELY SAFE, AS IT'S NEAR FRESH AIR. I'd love to meet you if you're in the area…otherwise you will find pictures on my Facebook personal and professional pages, as well as my next blog…UPDATE: THE MEET & GREET WAS ALSO CANCELLED…

Wishing you the best in your creative endeavors,
Jeanne Burrows-Johnson, author, consultant, and motivational speaker
To learn more about the award-winning Natalie Seachrist Hawaiian Mysteries, including Murders of Conveyance [Winner, Fiction Adventure-Drama, 2019 New Mexico-Arizona Book Awards] and other projects, please drop in at my author's website JeanneBurrows-Johnson.com. You'll even find Island Recipes that might inspire your culinary creativity.
For more ideas to strengthen your Wordpower© and branding, please visit: Imaginings Wordpower and Design Consultation. You might also want to check out some of the items mentioned in the post blog on book promotion and evolving art.
Follow Me:
Amazon, Arizona Authors Association, Apple Books
Audible, Authors Den, Barnes and Noble, Blogarama, Book Bub
Cozy Mysteries-Unlimited, Facebook, Good Reads, Hometown Reads
Book sellers may contact book distributors such as:
Baker & Taylor, Follett, IPG, Ingram, Mackin, Midpoint, TitleWave