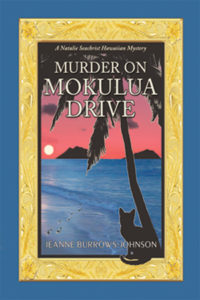 MURDER ON MOKULUA DRIVE NOMINATED FINALIST!
I'm pleased to announce that on September 7, 2018, my third blog on the benefits of PUBLIC SPEAKING will be featured on the website of Hometown Reads, while I'm visiting my own hometown of Portland, Oregon. Once I'm home, the original, longer version of the piece will appear right here!
While I'm in Portland, I'll be addressing a combined meeting of mystery book clubs, plus students at Woodrow Wilson High School, from which I graduated 50 years ago! I can't believe five decades have passed since I was fortunate to attend the accelerated classes in English and Social Studies that inspired later studies as well as my writing.

I'm honored to announce that Murder on Mokulua Drive [the second book in the Natalie Seachrist Hawaiian mystery series] has been nominated as one of six finalists in the fiction category of the 2018 Arizona Literary Excellence Awards!
Thank you so much for your interest in the series and my other projects! And, don't forget to drop in at my author website, where you'll find some delightful recipes for your next adventure in sampling Island cuisine…
Wishing you the best in your creative endeavors,
Jeanne Burrows-Johnson, author, consultant, and motivational speaker
To learn more about the award-winning Natalie Seachrist Hawaiian Mysteries, including Murders of Conveyance [Winner, Fiction Adventure-Drama, 2019 New Mexico-Arizona Book Awards] and other projects, please drop in at my author's website JeanneBurrows-Johnson.com. You'll even find Island Recipes that might inspire your culinary creativity.
For more ideas to strengthen your Wordpower© and branding, please visit: Imaginings Wordpower and Design Consultation.
Follow Me:
Amazon, Arizona Authors Association, Apple Books
Audible, Authors Den, Barnes and Noble, Blogarama, Book Bub
Cozy Mysteries-Unlimited, Facebook, Good Reads, Hometown Reads
Book sellers may contact book distributors such as:
Baker & Taylor, Follett, IPG, Ingram, Mackin, Midpoint, TitleWave