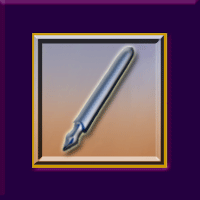 TIPS FOR B

ALANCING

TEXT AND VISUAL ELEMENTS
While most authors are familiar with writer's block, some may be less aware of other stalemates they may face in presenting their words effectively to a world of readers, listeners, and/or viewers in advertising and other commercial messages. There is, however, one category of wordsmith that regularly addresses the dilemma of matching their words to the mechanism delivering their message:  Authors of commercial text.
Artists and authors of commercial text regularly have to balance text with visual elements in order to deliver a dynamic and holistic message. How we do this may depend on the degree to which we are involved in the technical process of producing the completed message.  If, for example, someone else is charged with the  layout of print or electronic publishing, the author's only challenge may be in editing the length of the words within the passage of text.  But when the writer's responsibility encompasses the appearance of the final product is greater, the degree of their involvement in technical production is  increased.
authoring strategies
My own work has presented me with project challenges spanning the full range of production, despite my not being a graphic artist.  In working as a promotional consultant for one non-profit organization, I faced a board of directors determined to launch a branding program without a logo to represent them visually.  Knowing they'd quickly realize the folly of this choice—and blame me for the decision—I pulled out a pencil and sketched a rising sun with slanting rays to represent nature and growth.  I knew my simple doodle would not meet their needs, but I did obtain permission to have a graphic design company produce a logo prototype and sample postcard for which I had composed text.
Unfortunately, the island of O`ahu experienced a power outage during the week in which this took place.  Not knowing what else might occur, I quickly rescheduled my meeting with the directors for Friday.  When I checked in with the design firm mid-week, I was assured their timetable had not been compromised.  With confidence, I arrived at their office on Thursday afternoon.  Whoops, I was told:  The artist was off that day and the work had not been completed.
Since it was too late to find another artist, I was left to my own devices.  At the time, I worked with a simple word processing program and calligraphic pen.  With some copy-paste magic, I cobbled together a rather good sample and made a humorous presentation that netted smiles and authorization to proceed with my work.  A few days later, I found an independent graphic artist who grasped the spirit of the organization and completed each task she was assigned in a timely fashion.
Today I possess a computer that is fully loaded with graphic art software programs.  However, I know my limitations in design integration and continue to rely on professional artists for high resolution images.  Nonetheless, working with creative software during the early phases of a project allows me to rough out ideas that facilitate communication with both clients and artists to smooth the editorial process.  The result is that I'm able provide artists with conceptual springboards that allow them to surpass my humble starting points, as well as the initial expectations of clients.
Wishing you the best in your creative endeavors,
Jeanne Burrows-Johnson, author, consultant, and motivational speaker
Discussion of art is available at the following blog posts:
Authors Design Dilemmas 1, April 2015
Confronted by a Fantasia of Fonts, May 2015
Rainbows of Color, May 2015
Winning Logos & Slogans, October 2015
Quality Book Production, February 2016
Harmonizing Branding Elements, August 2016
Book Promotion and Evolving Art, January 2017
Balancing Text and Space, February 2018
Successful Cover Art, December 2018
To learn more about the award-winning Natalie Seachrist Hawaiian Mysteries, including Murders of Conveyance [Winner, Fiction Adventure-Drama, 2019 New Mexico-Arizona Book Awards] and other projects, please drop in at my author's website JeanneBurrows-Johnson.com. You'll even find Island Recipes that might inspire your culinary creativity.
For more ideas to strengthen your Wordpower© and branding, please visit: Imaginings Wordpower and Design Consultation.
Follow Me On:
Amazon, Arizona Authors Association, Apple Books,
Audible, Authors Den, Barnes and Noble, Blogarama, Book Bub,
Cozy Mysteries-Unlimited, Facebook, Good Reads, Hometown Reads
Book sellers may contact book distributors such as:
Baker & Taylor, Follett, IPG, Ingram, Mackin, Midpoint, TitleWave