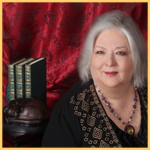 Author, narrator, design consultant, motivational speaker Jeanne Burrows-Johnson writes creative, technical and promotional materials and consults on design issues for individuals, as well as profit and nonprofit organizations.  Jeanne's energizing style draws on her background in the performing arts, education, and business.  Her authored and co-authored articles and essays have appeared in publications including:  Broker World; the Hawaii Medical Journal; The Real Estate Source; The Rotarian, and Under Sonoran Skies, Prose and Poetry from the high Desert.  Now turning to fiction, her Natalie Seachrist Hawaiian Mysteries draw inspiration from the people and stories of Hawai`i, where she lived for over twenty years.
Academically, Jeanne was accepted for membership in Phi Beta Kappa while completing her Bachelor's degree in History with distinction at the University of Hawai`i.  During graduate studies and a teaching assistantship, she became a member of Phi Alpha Theta, the national history honor society.  She is also a Lifetime Member of the British Association of Teachers of Dancing, Highland Division. As an author, she has membership in the National Writers Union, Arizona Authors' Association, Sisters in Crime, and Arizona Mystery Writers.
In this time of prolonged quarantine and stay-cations, many of us rely on virtual events and social media for our daily communication. This has led to a consideration that there's no need to refine our writing skills, expand our vocabularies, or to learn to insert artistic elements more effectively.  After all, on an average day all we need are the latest shortcuts for texting and tweeting. Right?
But what if you're applying for a new job?  Or you're needing to write a comprehensive report or deliver a dynamic speech?  And how can you increase your odds of impressing potential financial backers who have requested a business plan or executive summary?
You may be wishing you'd listened to those boring lectures during English classes in school!  For even if you hire a professional writer or business analyst, you have to oversee their output.
Now I'm not suggesting you labor over vocabulary-building exercises or memorize complicated rules of grammar.  You can even forget dictionaries, thesauruses and grammar cramming books.  But what you must be able to do is ask questions…requesting information from search engines and appropriately interacting with the professionals you have chosen to help you.
Of course, words are the foundation of any writing project.  But utilizing correct vocabulary is only part of the process of producing a successful verbal vehicle.  Effective authors also stimulate a viewer's senses through the sequencing, layout and presentation of words and design elements.  The visual impact of a word-picture lies in the fonts, size, and colors you employ.  Subtleties of texture, accompanying images, and even the platform utilized can increase the chance of success.
These are only a few of the topics I explore to demonstrate how one's skills in wordsmithing and effective design can enhance both our professional and personal living.
Wishing you the best in your creative endeavors,
Jeanne Burrows-Johnson, author, consultant, and motivational speaker
Further discussion of branding and marketing see:
Gifts: Planned and Unplanned, January 2021
Quarantine Promotion, January 2021
Rainbows of Color, May 2015
Winning Logos & Slogans, October 2015
Harmonizing Branding Elements, August 2016
Book Promotion and Evolving Art, January 2017
To learn more about the award-winning Natalie Seachrist Hawaiian Mysteries, including Murders of Conveyance [Winner, Fiction Adventure-Drama, 2019 New Mexico-Arizona Book Awards] and other projects, please drop in at my author's website JeanneBurrows-Johnson.com. You'll even find Island Recipes that might inspire your culinary creativity.
For more ideas to strengthen your Wordpower© and branding, please visit: Imaginings Wordpower and Design Consultation.
Follow Me On:
Amazon, Arizona Authors Association, Apple Books,
Audible, Authors Den, Barnes and Noble, Blogarama, Book Bub,
Cozy Mysteries-Unlimited, Facebook, Good Reads, Hometown Reads
Book sellers may contact book distributors such as:
Baker & Taylor, Follett, IPG, Ingram, Mackin, Midpoint, TitleWave